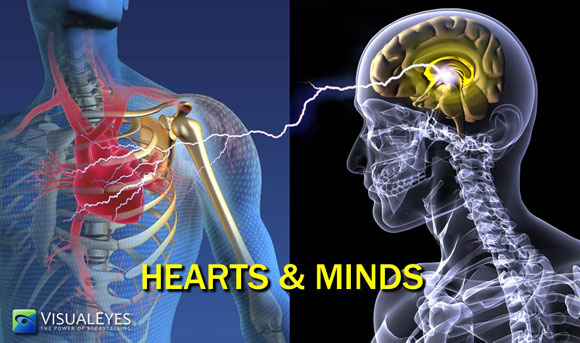 Why Storytelling?
The Mind is wired to learn best through storytelling. The Heart causes us to care about the message. Engage both and you change your world. VISUAL EYES captures the proven power of storytelling to inspire hearts and minds wherever they may be: across the enterprise, in the marketplace, on the road, at home or in the theatre of operations.

The power of the story on the human mind is harnessed so your message can enlighten, educate and influence in the most effective and elegant way possible.

Learn more about the Power of Storytelling →
The System
Intelligent Design
+ More Cowbell
= Continuous Aha! Moments
We use the latest research and methods in cognitive science, visual perception, instructional design, cinematic technique, knowledge management and interactive design. Then we add more cowbell*, and presto! Aha! moments happens in the learner's mind. The result accelerates adoption of your business learning, knowledge and marketing objectives.
*more cowbell: (informal) an extra quality that will make something or someone better. The Cambridge Dictionary Online, Cambridge University Press


VISUAL EYES developed Strategic Storytelling for essential business and learning applications. Strategic Storytelling is the optimal way to transfer knowledge. How that happens is amazing brain science combined with insight, experience, method and technology. The result accelerates comprehension, enhances understanding and inspires action.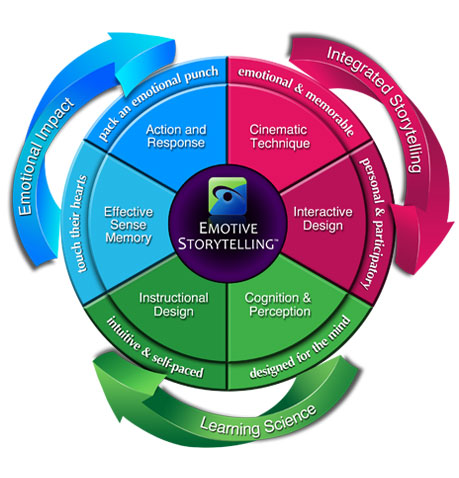 Integrated Storytelling
Cinematic Technique

– to make your story personal, engaging, emotional and memorable.

Interactive Design

– so the experience is personal and participatory.
Learning Science
Perception and Cognitive Science

– so it is optimal for the mind and the senses to make it consumable, effective, and easily retained.

Instructional Design

– so it is logical, multi-layered, self-paced, and intuitive to navigate
Best Practices
Business Strategy

– delivers an enterprise solution which supports your business mission.

Enterprise IT & Mobile/Web Apps

– to allow you to track learners, measure results, easily change content, integrate social media tools, and even translate your story into multiple languages for use across a global enterprise.
Tap into Brain Science

The mind is an incredible non-linear processor that is beautifully designed to tune into information in particular forms and patterns - especially stories. We tap the power of the mind to do what it does best. Learn.

Strategic Storytelling creates content and orchestrates it to enable the mind to rapidly absorb, gist and retain the big picture as well as the detail. This also empowers the learner to choose their path which makes it even more personal. Strategic Storytelling alchemy combines the elements of integrated storytelling, learning science and best practices to deliver compelling stories online and to mobile devices. This unique fusion stimulates interest, accelerates understanding of both content and context, and drives home strategic purpose significantly deeper and faster than traditional learning and marketing approaches.
Greater than the Sum of its Parts

Strategic Storytelling weaves context, details, characters and events into a whole that is greater than the sum of its parts. When it comes to your story, that means people 'get it' faster, they retain it longer, they control the experience, they can interact with others, and they have an enjoyable time along the way.
Because Conventional Isn't Cutting It

This innovative approach and technology significantly increases understanding and learning performance in critical areas where traditional applications are not keeping up, and where classic web and computer-based methods are not proving adequate. Strategic Storytelling earns and sustains the attention of today's media-driven audience.
Services
Branding Strategy
Instructional Design
Integrated Media
Social Media
Mobile Apps